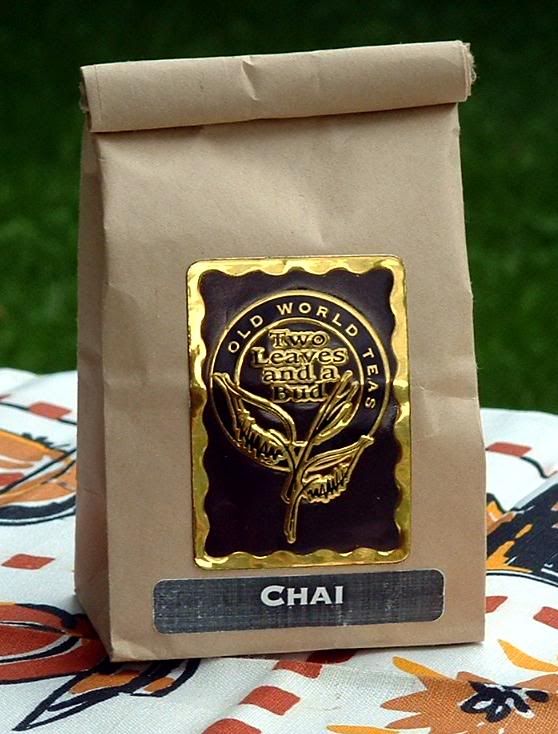 Celestial Seasonings
teas are SO good. I've never met a brand of their teas that I didn't like .. who could turn down a tea like Sleepytime? Tension Tamer? Honey Peach Ginger? Mint Magic? Bengal Spice? (ok, maybe
Paulie
, because he's not a big fan of tea .. =)
While I wish I could have a private stock collection of each & every tea they've ever made, I can't. Nor can I afford to.
Celestial Seasonings has a good line of chai teas, which the India spice one happens to be my favorite ..
But store-bought chai is nothing compared to a homemade chai. You can doctor it up with all the milk and honey you like, but it just doesn't compare. If you've never tasted a really good long brewed chai tea, you are missing something so good.
Chai is a centuries-old recipe of black tea, usually made up with heavy milk, various spices, and a little sweetener (although I'm not fond of the sweetener .. you can ditch it or just add a little for taste)
The first time I had homemade chai tea was when I lived in Tennessee. My aunt had a party and someone brought a pitcher. I thought it looked like a strange colored milk, and I wasn't about to try it. However, I did try it, and after one cup, I was hooked. I wanted more but the pitcher was drained within minutes. Everyone else at the get-together loved it too.
It isn't the easiest tea to make and it's a little time consuming, but once finished, you'll be glad you took the time.
Moon Chai


10 pieces of ginger, 1-inch
4 cinnamon sticks, broken
1 tsp green cardamom pods
2 1/4 tsp black peppercorns
1 tsp cloves, whole
1/2 tsp fennel seeds
1/2 tsp licorice root
1/2 tsp allspice
5 cups water
3 tbs honey
Milk, to taste
Combine everything except milk and honey in a saucepan. Cover pot and simmer 45 minutes. Remove pot from heat and let sit another 45 minutes (covered.) Strain out the spices, and add the milk and honey as desired.