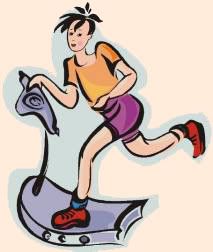 I cut another minute off my nightly 1.5 mile walk, and I'm pretty sure that's due to a cd mix of fast songs that I put together, with the help of
Paulie
.
Some of those songs I hadn't listened to for a very long time, since he and I first started hanging out or when we first got together.
Like 'Toca's Miracle' by Fragma, 'Push Up' by FreeStylers, 'Girls' and 'Breathe' by the Prodigy ..
It was really awesome to hear them again =) Brought back really great memories.